Children in Wales launches its 7th Annual Child & Family Poverty Survey Findings Report
The 2 surveys sought to understand more about the current issues children, young people and families are facing, the impact this has and importantly, to hear the views of children and young people themselves.
Poverty denies children and young people many of their rights. The practitioners and professionals who responded to this survey, work with a minimum of 110,000 families and their children. Overall, they see the rising cost of living, food insecurity and debt as factors that are having the greatest impact on families, with 95% stating that the situation is worse this year compared to last.
Respondents talk about "drastic consequences" of poverty, "deteriorating mental health" and "increased anxiety", not just for parents, but for children too.
Children and young people want the following to change: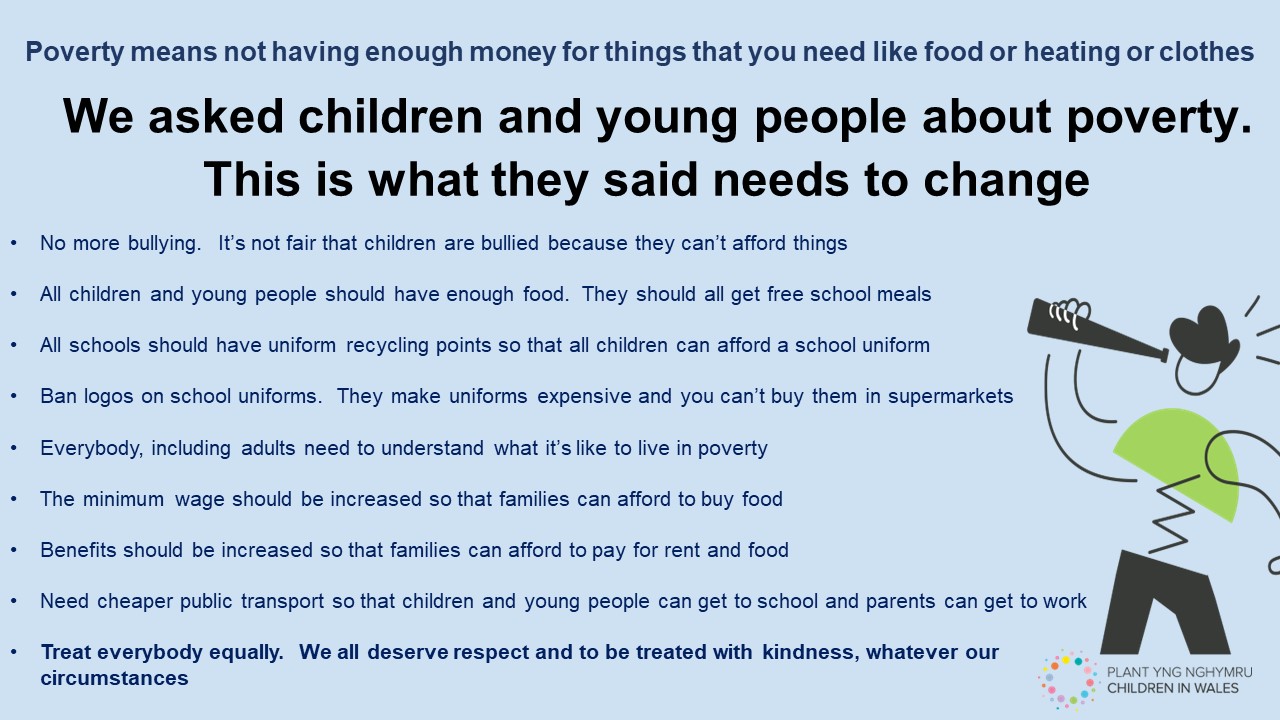 Hugh Russell, CEO at Children in Wales said:
"The numbers of children in Wales currently living in poverty in Wales have remained stubbornly high over the last decade. The cumulative impact of this ongoing situation on young people and their families is laid bare in our new report on child poverty in Wales.
The Annual Poverty Survey findings are clear: a huge proportion of society is struggling to meet their basic needs, and children are experiencing a direct impact from this on their learning and development.
We know that the next Welsh Government budget will be a difficult one but it's Children in Wales' role to amplify the experiences of both those working with children and young people, as well as children and young people themselves, and what they are telling us is that they simply cannot tolerate any further cuts. It is vital that the context in which many children and families now live is clearly understood and leads to a concerted effort to fully protect the budgets for those programmes, interventions and services which increasingly more children, young people and families rely upon."
Karen McFarlane, Policy Officer for Poverty and author of the report said:
"The impacts of poverty can be far reaching and touch every aspect of children's lives. Right now, as you are reading this, many families in Wales are having to make the decision to either feed their children or use electricity. It is therefore not surprising that the findings show increasing debt, food and fuel poverty and a dramatic increase in poor emotional health, not only of parents, but children and young people themselves".
"Just using some of the levers we already have will make a big difference to families, such as schools fully implementing Welsh Gov's statutory guidance on school uniform. This would mean that for many, schools uniforms would be cheaper."
Download the reports below, for further information about the report and its findings, please contact Karen McFarlane.