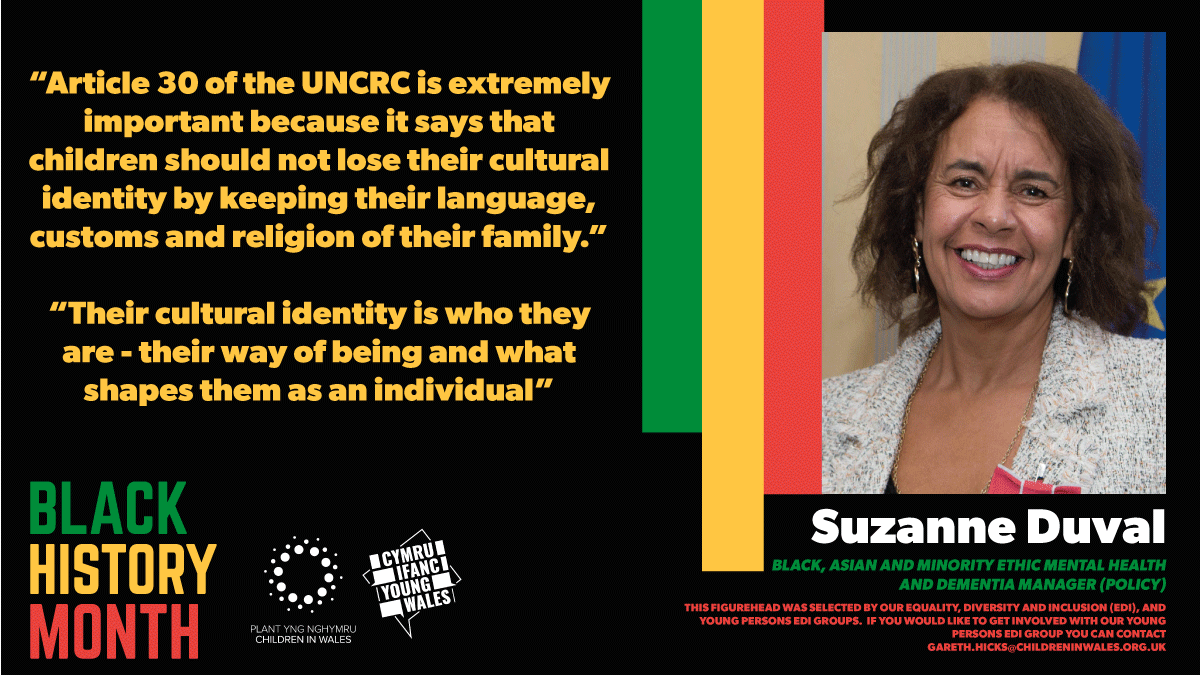 My name is Suzanne Duval and I was born in Cardiff in December 1957. I am the third of seven children. Brought up in a single parent family by a Black mother in Ely. The area is widely considered to be one of Cardiff's less desirable areas in terms of crime and standard of living. But us residents of Ely are keen to dispel this reputation, citing the fact it is a very large, close-knit community.
Having this background should mark me and my family as 'drop-outs', 'no-hopers', low educational attainment, unemployed/unemployable, young unmarried parents, trouble with the law etc, but we have all broken the stereotype of what 'others' would have labelled us.
I work at Diverse Cymru, the pan-equality charity committed to supporting people faced with inequality and discrimination because of age, disability, gender reassignment, marriage and civil partnership, pregnancy and maternity, race, religion or belief, sex and sexual orientation.
Diverse Cymru was formed in 2011 by Dr Charles Willie and it is a combination of Awetu Black Mental Health charity of where I was the Manager for 10 years and Cardiff and Vale Coalition of Disabled People of which Charles was the CEO.
I am the Black, Asian and Minority Ethnic Mental Health and Dementia Manager (Policy). I have worked in the mental health arena for the last 21 years and with dementia for the last 3 years. My interests also cover learning disability within those areas.
I have responsibility for managing major projects, addressing early intervention, inequality and support for adults, older people, children and young people regarding mental health/dementia/learning disabilities within the diverse communities of Wales.
I currently work collaboratively with Welsh Government, Public Health Wales, all 7 Health Boards, and the major mental health, dementia, suicide and self-harm and learning disability charities/organisations in Wales to represent the views and issues of Black, Asian and Minority Ethnic people with mental health issues and/or dementia/learning disabilities.
I have written the first Cultural Competency Toolkit for Wales which was launched by Vaughan Gething in 2016 and am working with
Dr Charles Willie and the United Kingdom Investors in Equality and Diversity (UKIED) carrying out an evidence-based Certification Scheme for the Toolkit called the 'Black, Asian and Minority Ethnic Cultural Competence Certification Scheme.'
This is a workplace developmental tool for organisations seeking to develop and implement good practice to ensure that the services they provide to our diverse communities are culturally competent, fair and equitable.
The Scheme has been funded by Welsh Government and endorsed by the Royal College of Psychiatrists in Wales.
This was also launched by Vaughan Gething in 2018 and is the first of its kind in the UK.
I have also had two Black, Asian and Minority Ethnic dementia ground- breaking reports written and published in 2019, 'Let's Talk about Dementia - End the Stigma and 2021, 'As I walk the last mile of the way'. Again, the first of their kind in Wales.
I started work initially in Black mental health as it was a personal interest of mine, being as I had episodes myself of emotional distress brought about by traumatic experiences throughout my life and, also, mental ill health was evident in my extended family. When I had read about the inequalities that existed in Black mental health as opposed to mental health in the majority population not only in the UK but all over the world, it drove my passion in this area to want to take action and change practice and experiences for us all. Of course, this passion is still within me and I will strive to do all I can.
Article 30 of the UNCRC is extremely important because it says that children should not lose their cultural identity by keeping their language, customs and religion of their family.
Their cultural identity is who they are – their way of being and what shapes them as an individual. They need to have pride in themselves and their way of life and become role models for others' who may think like them and especially for those that may be frightened to say about their religion or way of life for fear of criticism, rejection and discrimination.
I do like the fact that it makes clear that the article doesn't mean:
Article 30 doesn't say that a child or young person's culture or religion can be used to override their human rights. In particular, children and young have the right to be protected from practices that are likely to cause them harm, regardless of whether they are part of their culture.
This is a massive protective factor in cases of FGM, childhood marriage etc.
This article is invaluable especially now with the BLM movement which may be even stronger and active during BHM, although in Wales, It is 'Black History Cymru 365'. In England the theme this year is 'Proud to be' and that is what can be applied to the children and young people to take heed of this.
Black History Month has been running since 1987 in the UK.
A lot of us Black people don't even know our history in this country, what we may have always known though is American and South African Black history about slavery, colour segregation/apartheid, the civil rights movement in America, Dr Martin Luther King and Nelson Mandela, etc.
Since the murder of George Floyd, the BLM movement and the pandemic shone a spotlight on the inequalities/injustices in the UK and the rest of the world about Black people, a huge uproar started over the world and people were standing up for their entitlements/rights.
Not to say that we have never stood up for any of these things before, but now those things have been highlighted over the world, the voice is louder and stronger and people in power have had to take notice and make a start with EDI aspirations and actions.
It has also made people want to learn about their histories, their backgrounds – not only Black people but others' wanting to learn and add to their education. There is more to our history than slavery and racism. There is more to us than history, yes, we have a past, but also a present and future.
We and our families have made huge contributions to this country, to the fabric and history of sacrificing our families in wars to die for others' freedom and democracy, we have built the ships and the planes, worked in the mines, in social care, the NHS, in art etc. We deserve our names and images on the epitaphs and statues that celebrate history and outstanding contributions and achievements, and in our history books.
The curriculum is now being changed to include Black history and modern achievements, giving our children role models to aspire to and be proud of what we have achieved and give hope to our future aspirations and goals.