The landscape for children's rights in Wales has transformed over the past 30 years. Together with our members, associates and young volunteers, we have worked to achieve significant change and to improve the lives of children and young people in Wales.
While there is still work to be done, it's important to acknowledge these joint achievements, to recognise what is being developed now and to plan what's needed for the future.

What's happening this year?

Young Wales' trip to Geneva
In early February 2023, 6 of our volunteers from Young Wales went on a trip to Geneva, to meet with the UN Committee on the Rights of the Child. Alongside young people from across the UK and Jersey, they had two meetings with the Committee, where they were able to express their views on the state of children's rights in Wales and were able to give recommendations for what they think should be done to improve things. Read the Young Wales Report to the United Nations Committee on the Rights of the Child here.

30th anniversary bunting competition
We organised a creative opportunity for schools, community groups, childcare and play settings to raise awareness of Children's Rights and get children and young people thinking about which rights are most important to them. We asked children and young people to create their own bunting design based on their chosen children's right and are delighted to announce the winners:
First place: a pupil from Ysgol y Ferch o'r Sger, Bridgend
Second place: a pupil from Trellech School, Monmouthshire
Third place: a pupil from Bryn Celyn Primary School, Cardiff
Huge congratulations to our winners and below is their fantastic artwork. Find out more about the competition and prizes here.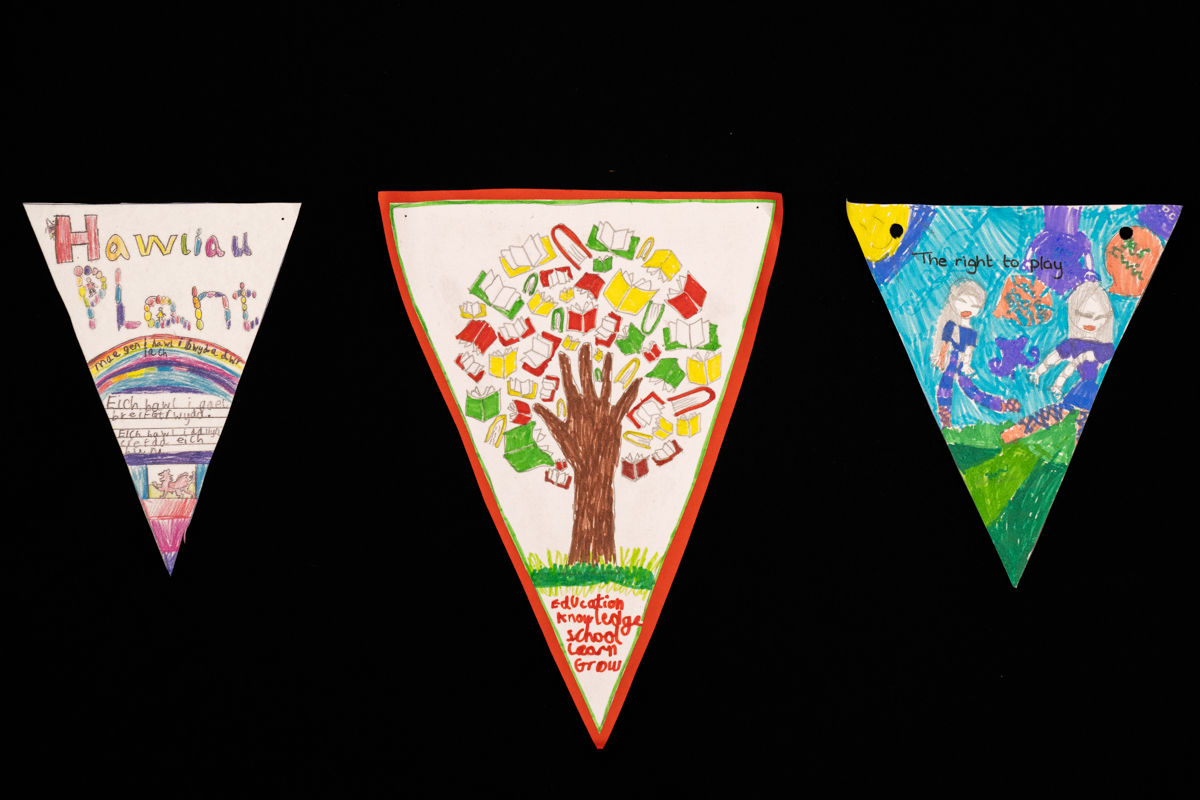 Special editions of the Children in Wales magazine
Special editions of our Autumn and Winter members magazines are being produced, capturing all the positive work that has been happening across Wales over the last 30 years. These special editions will be shared on this page so watch this space.
Winter Magazine – (Publish date - 25/01/2024)

30th anniversary book
Our young volunteers have been working behind the scenes to produce a commemorative book to highlight the key work that has taken place over the past 30 years, the importance of children's rights today and the future of children's rights. Find out more about children's rights here.
Watch the video below to find out more about the book.
Young Wales Festival
On Saturday 18th November 2023, Children in Wales celebrated Universal Children's Day via our annual Young Wales Festival at Swansea University, Bay Campus. This year, some of the costs associated with the event were generously sponsored by Cactus Design Ltd and Techsol Group Ltd. The event offered young people the opportunity to engage with crucial decision makers, including the Minister for Social Justice, the Deputy Minister for Social Services and Senior Policy Managers for the Welsh Government.