Who is the project aimed at?
The project and guides are aimed at all maintained education settings across Wales, education staff and anyone working within schools.
This project, however, is of value to anyone working with disadvantaged children and young people who want to have an understanding of the impact and effects of poverty on children and young people, particularly in a school setting.
Poverty is far reaching and anyone working in housing, community engagement or youth service will also find the project valuable and of interest.
Project description
The project is supported and funded through the Welsh Government's Support for Learners Division and Education Directorate.
Children in Wales worked with a variety of child poverty and education experts
(including the End Child Poverty Network Cymru, and the four Regional Education Consortia in Wales) to develop a suite of guides in order to raise awareness on the impact of poverty on the everyday school experiences of pupils from low income and disadvantaged families.
The guides act as a resource for schools in Wales, designed in Wales, to raise awareness of pupil poverty issues and provide tangible and cost effective solutions that can contribute to improved learner wellbeing.
The guides address five key areas that impact on pupils in a school setting and who live in poverty. These are: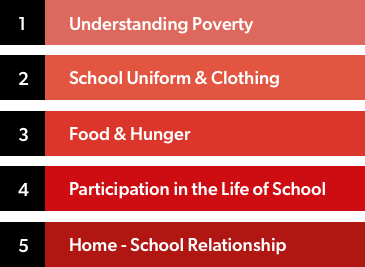 Children in Wales has a dedicated Development Officer who is working with a number of schools across Wales to support them in implementing the guides, to reduce the day-to-day impact of poverty and promote wellbeing for their pupils. The Development Officer can provide advice to schools on how to use and implement the guides to "poverty proof" their school, as well as provide training.
What is the project trying to achieve?
The associated costs with the school day leave many pupils disadvantaged and not fulfilling their potential. The guides, which are embedded in children's rights and wellbeing, provide ways that schools can take action to ensure that poverty is not a barrier for their pupils.
With the recent pandemic forcing more people than ever into poverty, the guides will be even more relevant. We aim to support all schools across Wales to consider and implement the guides in order to create a more equitable experience for those pupils from low income and disadvantaged families. By raising awareness and encouraging schools to act on key areas of the guides, we can prevent barriers to pupils' learning and the negative impact on their wellbeing, where 'no child is left behind' as a result of poverty.